Sugar and Plumm, Purveyors of Yumm is a lovely retail shop, bakery and eatery that recently opened in The Bergen Town Center in Paramus. When you approach Sugar and Plumm you are mesmerized by the whimsical window displays. They are eye catching and beautiful with candy delights and the memory of childhood whimsy.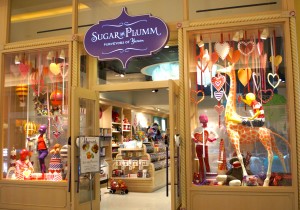 The store is modern and inviting. When you enter through the retail portion there is a huge candy bar where you can mix and match your favorites, a large M&M dispensary on one wall, a great selection on nostalgic candy. There are also plush animals, stationary, games, books, and mugs to name a few of the many items.
The specialty bakery is filled with home made confections, cakes, and candy from their own kitchen in Moonachie. Some of the gourmet delights include fudge, bite size carrot cakes, tarts, cake pops, and chocolate bark. There is a lot of detail put into the artisan goods. They will also make custom cakes for all occasions.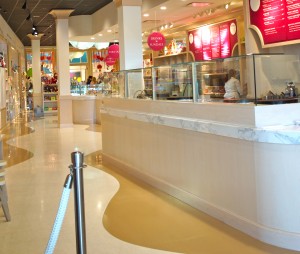 The restaurant portion of the store serves breakfast, lunch, and dinner. There are chefs making homemade crepes before your eyes. The smell and ingredients makes it hard to order anything else. The menu has a variety of smoothies, crepes, waffles, soups, salads, sandwiches, and dinner entrees. The menu is just the right size.
On our visit we ordered the banana chocolate crepe with fresh strawberries. The presentation was good, the homemade crepe was flavorful and the melted chocolate was perfect. We also had the 7-grain chicken sandwich, which had avocado, tomato, pea shoots, and boursin spread. The ingredients were fresh and homemade bread was good with a hard crust, if you like that. We also ordered a mango smoothie, which had good mango flavor. It was very thick and came with a nostalgic paper straw that got soft within ten minutes and made it difficult to drink. (Ask for a plastic one!)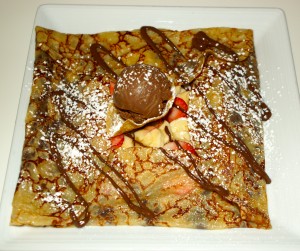 It was difficult to choose which gourmet dessert to try so we split the chocolate caramel tart. It had a wonderful mousse texture and chocolate flavor. However, I did not taste any caramel.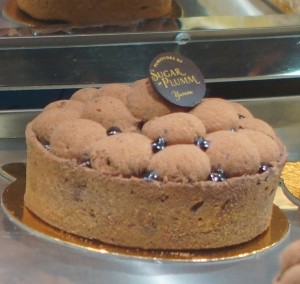 Overall it was a good experience with some fine specialty foods. The service was attentive and accommodating. This is a treat for North Jersey Foodies to visit with or without children. Please note though the only allergy warning on their website states, "Our products are packed and made in a kitchen where dairy, soy, peanuts, and other nut products are used." In reality I was told by the manager all of their gourmet-baked goods are made with almond flour.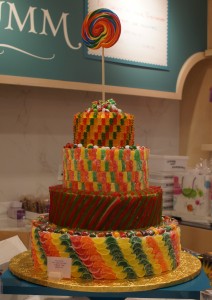 www.sugarandplumm.com
Sugar and Plumm
620 Bergen Town Center
Paramus, New Jersey
201-880-8156