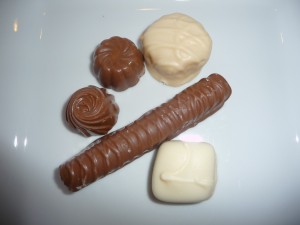 When you walk into Nagel's Candy Barn in Wayne, New Jersey the overwhelming aroma makes you feel as if you have died and gone to chocolate heaven. Then you walk through the second set of doors and know you have.
This is one of the largest home made chocolate shops in New Jersey, both by volume of specialty chocolate and square footage. There is not one inch of the store that has wasted space with the 1,000's of assorted chocolates. At any time you can find a huge selection of truffles, peanut butter bark, caramel stick covered chocolate, and chocolate covered pretzels and all home made in the back kitchen. I highly recommend the chocolate covered peanut butter cups. They are worth every penny with the smoothest chocolate you can find covering an even smoother creamy peanut butter. You want to eat it as slowly as you can to savor the taste.
Holidays are a special place at Nagel's whether it is Valentine's Day, Easter, Mother's Day, or Christmas. You can see all of the work that goes into lovingly making these specialty chocolates and their displays.
My most recent visit was for Valentine's Day. There is a range of enormous to small heart containers that you can fill yourself. The seasonal chocolates include solid hearts, flowers, love notes, and chocolate covered strawberries. The store is decorated with such care with ribbons, hearts, and bows for Valentine's Day. One can see all the hours of labor and love put into Nagel's.
Nagel's is truly a landmark of North Jersey. They have been doing business for over 40 decades. Those that have moved out of state and come back often make a special trip to Nagel's. In their 70's, Mrs. Nagel runs the Wayne location and Mr. Nagel runs the Randolph location. They have no website, take cash only, and are closed July and most of August. If you love chocolate and home made foods this is a place to visit.
Locations: 1512 Rt 23, Wayne NJ 07470, 973-694-4657
358 Rt 10, Randolph, NJ 07869, 973-361-1688