Mr. Cupcakes makes homemade specialty cupcakes. Many may have seen one of New Jersey's own Johnny Manganiotis on Food Network's Cupcake Wars. He opened his first store in Clifton and has now expanded to three other locations.
These gourmet cupcakes are unique in that they bake them with the specialty ingredients mixed into the batter. This is very different than stuffed or filled specialty cupcakes. You taste and see the ingredient in every bite. Most have their own unique frosting that compliments the cupcake.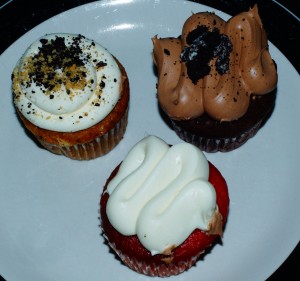 I visited the Clifton Mr. Cupcakes location. There were over 30 varieties of cupcakes in the store when I arrived, including minis. Out front one of the bakers was putting frosting and sprinkles on Johnny's famous coffee donuts. You could also see into the kitchen where the gourmet magic was happening with all fresh ingredients.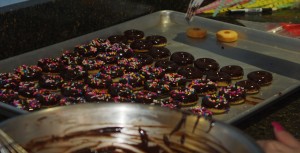 The cupcakes are listed in two categories. The Executives that Mr. Cupcakes always carries and The Intern which changes regularly. I choose to bring home the Red Velvet, Triple Chocolate, Cookie Jar, and Oreo Cheesecake. It was a difficult decision deciding which one to try first. The Triple Chocolate was just that. This cupcake is a paradise for chocolate lovers with chocolate chips still visible through out the cupcake. The Red Velvet was not the deep red you think of but the cream cheese icing was one of the best I have ever tasted. It was very light and tangy. The Oreo Cheesecake was delicious with almost a mousse like frosting. My ultimate favorite (and my family's) was the Cookie Jar. I could not tell if I was eating a cupcake or a chocolate chip cookie. It was moist and had the perfect icing.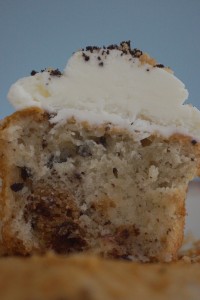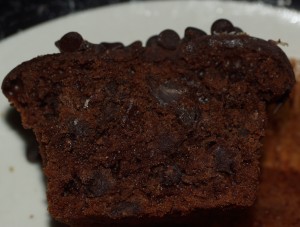 These homemade cupcakes are reasonably priced at the Clifton location at $1.50 a piece. Mr. Cupcakes also does special logos, holiday, and birthday cupcakes.

Their current locations are:
1216 Van Houten Ave
Clifton, NJ 07013
973-859-0180
385 Kinderkamack Road
Oradell, NJ 07649
201-483-8897
The Shops at Riverside
Hackensack, NJ 07601
201-342-2293
86 Broad Street
Red Bank, NJ 07701
732-219-8856