The Jersey Devil Chocolate is a dark chocolate bar with chipotle spice and cranberries.  It was named after the Jersey Devil who has been part of New Jersey folklore for over 250 years and some say still lurks in the New Jersey Pine Barrens.
When coming up with the idea of Jersey Devil Chocolates the Waksman Family could not have done a better job, dark chocolates, super fruits, and spice. This specialty chocolate bar combines them all nicely.  New Jersey is the third largest producer of cranberries and combing that with the spicy devil is a great tribute to the state.
When you open the wrapper you see a beautiful dark chocolate bar.  When you break off a piece you can see pink and red cranberries popping out at you. Don't let the devil and flames on the packaging fool you.  The spice is not overpowering or burning.  When you first taste the chocolate it is the sweetness of the cranberries that sits on your tongue.  A moment later you say "OH!  There's the devil spice!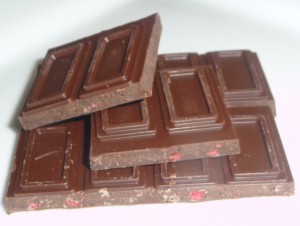 "  The combination with the smooth dark chocolate is very unique.
This specialty chocolate bar is a find for North Jersey Foodies.  Another thing we love is that it is a truly a North Jersey family business.  The Waksman family came up with the idea together over dinner, blended and sampled together, and their fourteen year old son drew the picture of the devil for the packaging.
You can check out more on their website www.JerseyDevilChocolates.com, Facebook page, www.Facebook.com/JerseyDevilChocolates, Amazon Jersey Devil Chocolates – Dark Chocolate, Chili and Cranberries – Chocolate Bar
Chocolate.com, Find the Perfect Valentine's Day Gift at Chocolate.com
If you have any other great North Jersey Foodie finds please post a reply for all of us to discover!