MAPLE SUGAR FESTIVAL, Saturday March 02, 2013. Maple syrup snow cones, taste tests, tree tapping demos and more! There will be crafts, games and hikes. This is fun for the whole family. Location is The Great Swamp Outdoor Education Center in Chatham Township. Admission $4.00 per person. Please click here for additional information: Maple Sugar Festival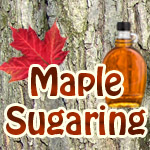 RAMSEY INDOOR FARMERS MARKET, Sundays until March 24th, 10:00 to 2:00. Established by the Ramsey Historical Association it supports eating, growing, and buying local and fresh. There is something for everyone: local made honey, breads, nuts, and cheeses. For a full list of vendors please click here: Ramsey Indoor Market.
A TASTE OF MORRISTOWN, Monday March 04, 2013 from 6:00 to 9:00 at the Hanover Marriott. This is the 11th annual charity event for the Morristown Rotary Club. This year there are 30 vendors highlighting the event. It is a great way to sample some of the finest restaurants in and around Morristown. There is also wine and whiskey tasting. This is a great event for a great cause for only $60.00. Please click here for additional information: A Taste of Morristown.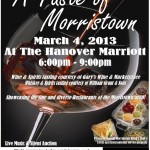 SAVOR FOOD AND WINE FESTIVAL, Monday March 04, 2013 from 5:00 to 8:30 at the Preakness Country Club, Wayne. This is the 13th Annual event for the North Jersey Regional Chamber of Commerce. It is a great networking event but also a night out to sample some local restaurants and top notch wines. There is also entertainment, a mystic reader, and free chair message all for $50.00. Please click here for more information: Savor Food & Wine Festival.