KINGS GRAND OPENING/WINE OPEN HOUSE
KINGS FOOD MARKET – Gillette, NJ. March 22nd and throughout the weekend. Kings debuts a premiere store in Gillette, NJ. The pasta ribbon cutting will be held at 10:00 on March 22nd. Throughout the weekend there will be over 20 signature tastings. A cooking demo by Chef Franco Lania will be at 11:00 and 2:00. Guided tours by nutritionist Shari Bild Boockvar will be held from 12:30 to 3:30. She will be available all weekend from 12:00pm to 3:00pm. The first 500 customers will receive complimentary whisks and be entered into drawings. There are many more events and features to explore. Please click here for more information: Kings Food Market in Gillette, NJ.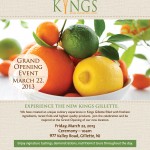 THE WINEMAKERS CELLAR – South American Wine Open House. Hawthorne, NJ. Sunday March 24th 12:00 to 5:00pm. Come meet family here. That is how you feel when you enter into the Winemakers Cellar. Have you every been curious how wine is really made? Winemakers cellar is having an open house on Sunday to show you the process and do a little tasting of the great Chili wines you could make. All are welcome and light hors d'oeuvres and cheese will be served. Click here for more details: Winemakers Cellar.