North Jersey Foodies was thrilled to be invited to a tasting of Bongiovi pasta sauces held on November 18th at Bon Jovi's Soul Kitchen in Red Bank, New Jersey.
The Bongiovi tasting was a charity event held to raise money for the JBJ Soul Foundation. Even though the rocker himself, Jon Bon Jovi was in attendance the highlight of the evening were the freshly prepared meals by John Bongiovi Sr, or Mr. B, as he likes to be called.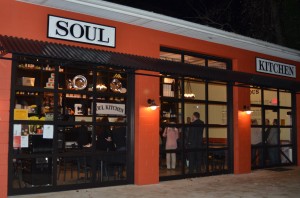 **photo of JBJ Soul Kitchen
The sauces are "passed down through three generations, the Bongiovi family recipe originated in the town of Sciacca on the southwest coast of Sicily in the late 1800's." After much encouragement and many "you need to bottle this sauce", Mr. B along with his sons Anthony and Matthew have taken their beloved secret family recipe and put it in a jar for all families to now enjoy.
The menu for the evening included seven family recipes prepared by Mr. B and some friends. He was delighted to be hands on in the kitchen serving up the dishes. You can see the smile on his face not only watching his family; Matthew and Jon Bon Jovi enjoy the meal but his new friends and family. Mr. B treated everyone in the room like family.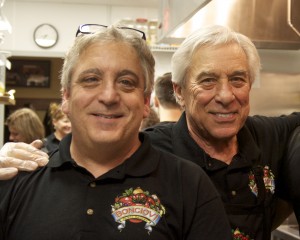 ** Lou Morreale (L) & Mr. B (R)
The great thing about the Bongiovi Brand Sauces is they are all natural. They are made with fresh ingredients, no preservatives, and are gluten free. You can pronounce everything on the label! The pasta sauces are made in small patches to keep the homemade taste.
We were able to try all three sauces. The Marinara is tangy and you can see the freshness in how bright red the sauce pours out of the jar. The Garden Style has a chunky consistency with fresh bell peppers, garlic, onions and other vegetables. The Arrabbiate had a hint of hot peppers but not so much that is was over powering.
At the end of a the evening speaking with Mr. B we asked why at 75 when you could enjoy your retirement are you doing all of this and sharing your family recipe. He smiled a warm genuine smile and said: "This is what I do".
You can find The Bongiovi Brand Sauces in Shop Rites and Wegmans. A special Thank you to Saker Shop Rites that donate 95% of the food to the Bon Jovi Soul Kitchen and Ken Scaggs for organizing the guest list.
You can find our more information at Bongiovi Brand Sauces.
**Photos courtesy Savvy Studios. For more photos like us on North Jersey Foodies Facebook.